This page is to provide you with useful links or information and is currently being updated.
Please scroll down to find information and useful links for home learning.
---
Important notes:
Please take care when accessing Home Learning sites and resources from the Internet, some of them are free trials some are not.

Always read the small print as you might have to subscribe into them and there is a possibility you may be charged after the free trial period has ended.

External links are selected and reviewed when the page is published.

However, Nields J I & N School is not responsible for the content of external websites.

The inclusion of a link to an external website should not be understood to be an endorsement of that website or the site's owners (or their products/services).

---
For useful Online Safety websites click on the image below
---
added 12th January 2021
BBC Bitesize
lessons full of videos, quizzes and practice activities for your home learning, just click on the image below.
---
BBC Live Lessons for Primary School
These lessons are not compulsory but from Monday to Friday, 9 a.m. to 11 a.m. you'll be able to watch Bitesize Daily on BBC Red Button from 9am to 11am, and again on BBC iPlayer. Each 20-minute lesson will cover a different age group from ages five to 14, and will be brought to you by experts, teachers and some very familiar faces from the world of TV, sport and beyond. Just click on the image above to go to the website.
---
added 10th January 2021
Blue Peter is the longest running kids TV show in the world and you can find material from reception class to Year 6. There are world record breaking challenges, arts and crafts, environmental videos, cooking and baking how tos, inspirational films, gaming, celebrity appearances, dance routines and music performances. Also it features ways of getting a Blue Peter badge, behind the scenes footage and extra content about our incredible presenters Adam, Lindsey, Mwaksy, Richie and Henry the Blue Peter dog.
---
Parent Zone
Parent's Page Welcome to the Be Internet Legends Parent's Page — a helpful handbook full of tips and tricks for supporting your child's digital education.​
Be Internet Legends Help your child become a smarter, safer and happier explorer of the online world. Parent Zone have put together some fun activities to help you have a happier, healthier summer – and introduce your children to the tips and tricks they need to be safer and more confident online.
---
FREE to download Coronavirus a book for children, a free information book explaining the coronavirus to children, illustrated by Gruffalo illustrator Axel Scheffler.
Anxiety/worries about the Coronavirus? A guide for parents and carers of Primary School Children Click here to view the information Supporting children and young people around any anxiety/worry about the coronavirus
---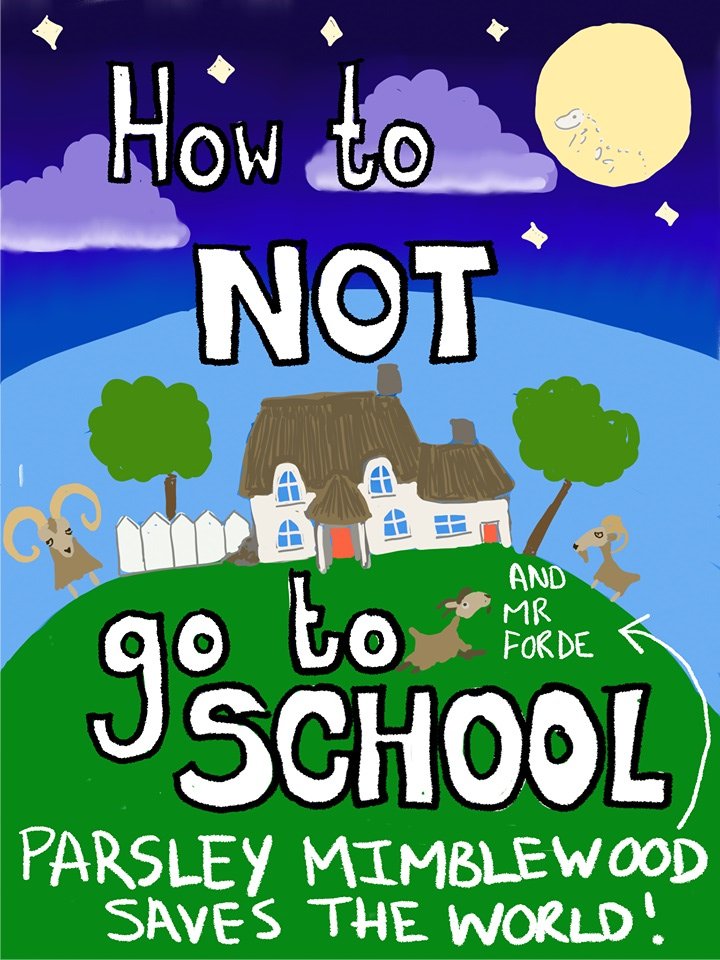 There is a book called 'How not to go to school' written by a teacher specially for children, you can download it to read or watch a video on Youtube, search for How not to go to school Parsley Mimblewood Saves the World.
---
Take a look below at some useful learning links, just click on the images
| | | |
| --- | --- | --- |
| | | |
| | | Free online resources divided by subject and age. |
| Numerise is a fantastic resource for Summer prep for Year 6 getting ready for Secondary school. Click on the image to go to the site where you can sign up for FREE as learners and supporting adults. | Reading is one of the most beneficial and enjoyable activities a child can continue to do whilst at home. Here are 45 popular reading guides FREE downloads. For years 3 to 6. | for KS1 (classes 1 and 2) |
| For KS2, 5-a-day, videos, worksheets, study cards, quizzes and practice papers. | Play a range of online phonics games, helping and developing the skills needed to read and write. | for KS2 (classes 3-6) |
| A series of five maths lessons for each year group from Year 1-8. They will be adding five more each week for the next few weeks. | Free to use whilst schools closed. Lots of resources available. | Virtual tours, and live webcams, including Space and explore the oceans (underwater cameras). |
| Maths at home for free with Carol Vordermans Maths Factor for students aged 4-12 years. The Maths Factor makes maths fun. | Writing ideas - a fun list of 300 creative kids writing prompts for parents to use. | The Young People's Trust for the Environment is a charity which aims to encourage young people's understanding of the environment and the need for sustainability. |
| Some simple yet inspiring ways to do maths for EYFS children. | OXFORD OWL reading books Help your child learn and love to read with our eBook library, containing over 100 FREE eBooks​ – great ideas for writing too. | Kindness calendars for download and printing off. |
| Everyday fun math activities for younger children. | 30 days free access, online reading programme for 2-13 year olds. | Free Kids Activities, beat boredom and keep your little ones busy with our free activity packs – both fun and educational! Simply download and print at home. |
| 30 days free access to a comprehensive online e maths programme for kids aged 3⁠–⁠9. | | Find out about Fair Trade, fantastic web site for children of all ages, lessons, stories, films and more. Well worth a look. |
| To support everyone through these difficult times, there is unlimited access to ALL the Portal resources for 30 days – completely free of charge. | | PE with JOE Joe Wicks is bringing back PE with Joe for the new Lockdown. The Nation's PE teacher will be live for 20 mins three days a week: Monday, Wednesday and Friday at 9am (UK time) Search for Joe Wicks PE (please note that no link has been provided as the use of Youtube should be with a responsible adult). |
| Free home learning packs for Primary Maths (KS1 and KS2) resources. | | It can feel daunting to suddenly and unexpectedly be in charge of home learning, so click on the image for some easy guidelines to follow that may make it easier. Take a look to see if this can help, you will have to subscribe (unsure of cost) to access the resources. |
| | | |
| | | Sing along nursery rhymes and more for Nursery and Reception children. |
| | | Scouts - The Great Indoors , while we normally love the great outdoors, here are some inspired indoor activity ideas. Keep your kids learning new skills and having fun. |
| | | GoNoodle Kids Dancing is an app designed to get kids moving and to reinforce awareness of the positive effects of exercise. It is rated for users of all ages and is safe for kids. |
| | | Home learning - access a free week of learning resources |
| | | Primary teaching resources for teaching pupils at KS1 (classes 1 and 2) and KS2 (classes 3-6) |
| | | Dance Mat Typing, a fun way to learn how to type quicker and improve keyboard skills for children and adults. Have a go you will enjoy it! |
| | | Hamiltons are providing free packs for each year group for English, Maths, Science and Topics. |
| | | Oak National Academy is a new collection of high-quality lessons and online resources.​ |